Valid from April 21st, 2016 to May 8th, 2016
Win a trip to Las Vegas with $10,000 spending money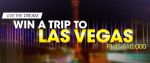 Betbright Casino's 'Live The Dream' promotion is open to all new slots players signing up before the 8th May. The promotion is effectively an equalised stake tournament with a level playing field for all players, whether you low roll or play it risky where your stake size doesn't matter: it's all about the Big Win ratio!
The player with the best Big Win ratio of win/bet size before the end of the tournament will win a trip to Las Vegas with a whopping $10,000 of spending money (a cleverly thought out number as it happens as that is the most US customs will let you in with in cash, which IMO is a bit stupid when you consider Vegas is Casino City!).
The next 99 players will win prizes including a Londnon casino experience, an Apple iPhone or one of many cash bonuses. The website features a live leaderboard so you can see where you are at any given moment. Click the link below to be taken to the current eaderboard!